John Harris Sr and John Harris Jr
The Story as reported by Robert Harris, grandson of John Harris Sr, in 1828.
In approximately 1720, a group of Indigenous people visited the Harris Trading Post asking for rum. However, John Harris Sr declined their request. Enraged by this, they bound Harris to a nearby mulberry tree, aiming to subject him to a fatal conflagration. At this critical moment, Hercules, a slave belonging to the Harris family, paddled across the Susquehanna River to the West Shore, seeking assistance from a neighboring tribe which promptly intervened. After being successfully rescued from his perilous situation, Harris emancipated Hercules and declared his intention to have his final resting place beneath the renowned mulberry tree.
Fast forward to December 16, 1896, Miss Caroline Pearson, (photo on right) direct descendant of John Harris and charter member of Harrisburg Chapter, NSDAR, bestowed upon the chapter a gavel hewn from this very mulberry tree. This date was the 123rd Anniversary of the Boston Tea Party. Source: DAR American Monthly Magazine, Vol. 25, No. 1, July 1904, p. 32.
The gavel's head proudly bears the inscription:
"Made from the tree to which John Harris was tied by the Indians, when they attempted to burn him in 1720."
Two metallic bands adorn the gavel, with the second one encircling the handle, its engraving reading:
"Presented to the Harrisburg Chapter DAR by Caroline Pearson, one of his descendants. December 16, 1896."
Then, in 1982, Harrisburg Chapter, NSDAR donated both the gavel and a ballot box—likewise forged from the wood of that same enduring mulberry tree to which Mr. Harris had been confined—to the John Harris - Simon Cameron Mansion and the Historical Society of Dauphin County.
The namesake of the city of Harrisburg is John Harris Jr, the son of John Harris Sr. Below, you'll find his biography.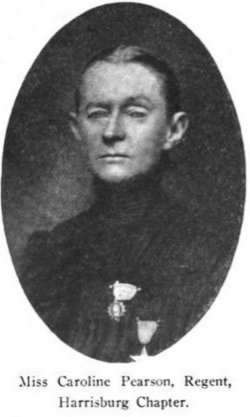 Source: DAR American Monthly Magazine, Vol. 25, No. 1, July 1904, p. 32.
Caroline was born 25 May 1845, PA; died 2 Jun 1927, Harrisburg. As a charter member, she served as Historian from 1894-1904 and then as Regent from 1904-1910.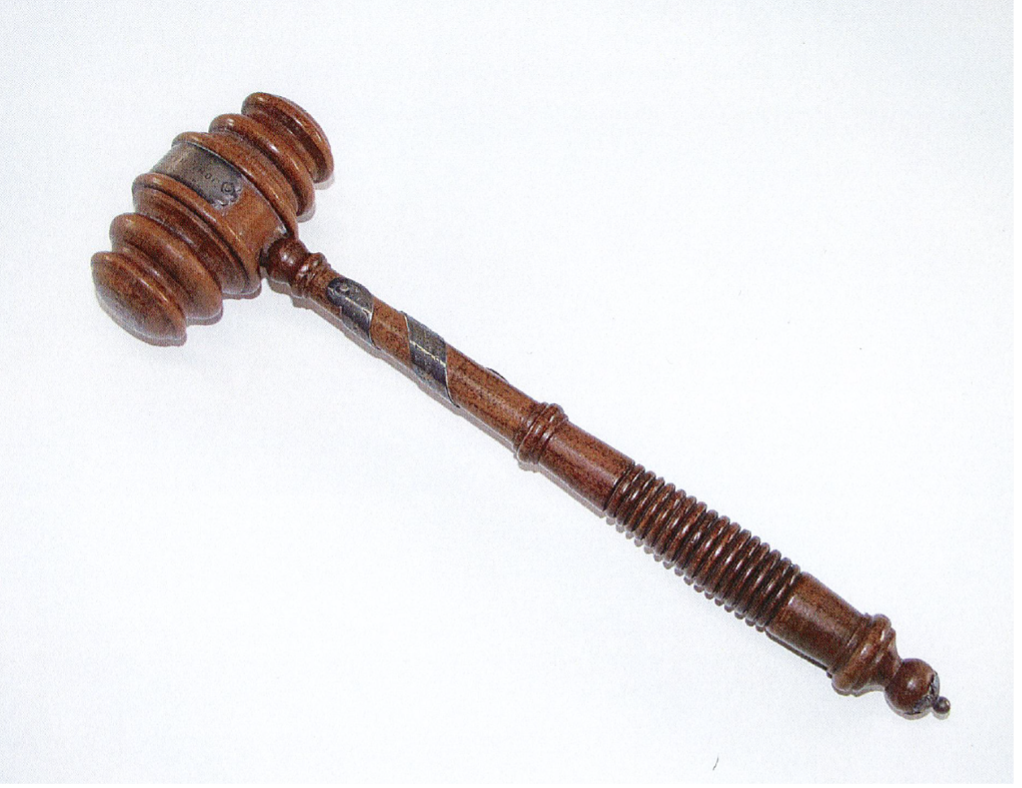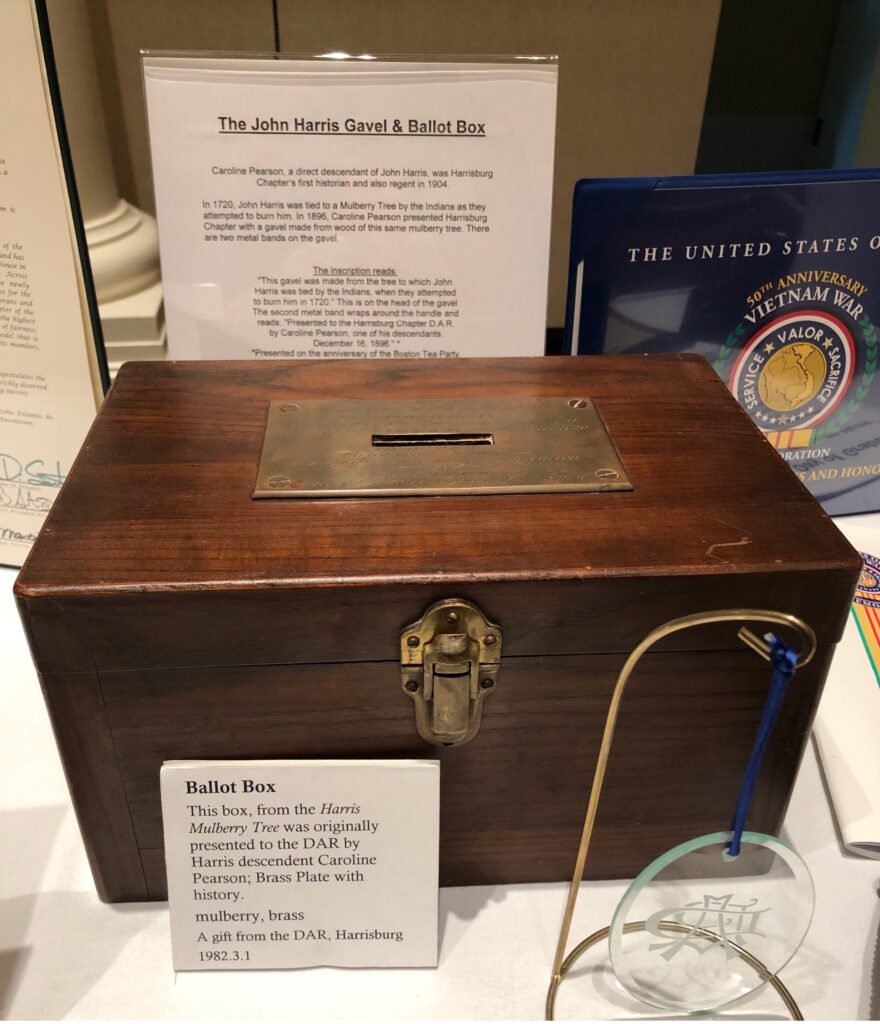 Whom The Harrisburg Chapter is named after.
DAR Ancestor Number:  A051708
Service: Patriotic Service, PA
Residence: Paxton Twp., Lancaster Co., PA
Birth: 22 Aug 1727, PA
Married: 1st Elizabeth McClure 3 May 1749
2nd Mary Reed
Death: 30 Jul 1791, Harrisburg, Dauphin Co., PA
Burial: Paxton Presbyterian Churchyard, Harrisburg, Dauphin Co., PA
Proven children: Mary McClure, Anna, Mary
John Harris's Biography
"John Harris Sr was born in Yorkshire, England, 1673. He emigrated to America two or three years prior to Penn's second visit to this Province. He was the first white settler heard of within the limits of then Lancaster County, now Dauphin County, entering this lucrative field of Indian tracking. In 1705, John Harris received his license from the commissioners of his party authorizing and allowing him to seat himself on the Susquehanna. His first habitation was on the lower bank of the river about 200 feet below the spot where now repose his remains."[1]
John Harris Jr, subject of this bio, born 1727, was the first white child born in Pennsylvania west of the Conewago Hills, who attained the age of manhood. He was taken by his mother to Philadelphia to be baptized 22 Sep 1728, aged eleven months.[2] He inherited that portion of his father's estate upon which the borough of Harrisburg was subsequently laid out. For three fourths of a century the site was known as Harris' Ferry. The ferry site was granted in 1753 (as the original document now in existence shows) by Thomas Penn and Richard Penn, Esquires, true and absolute proprietaries, and governors of the Province of Pennsylvania.
John Harris Jr took an active part in the treatise with the Six Nations, signing the address to the inhabitants of the Province, issued 13 Oct 1755 from the second treaty, the resignations of peace in both instances being held at Harris' Ferry.[3] In 1766, John Harris erected a stone house along the Susquehanna River. It took three years to complete and the building still stands.
He was chosen for Cumberland County Commissioner of Observation 12 Jul 1774; a member of the Provincial Conference, held in Carpenters Hall, Philadelphia, from Cumberland County, 18 Jun 1775;[4] commissioned a captain in Continental Service 12th Pennsylvania (Colonel William Cork), 14 Oct 1776;[5] a delegate to Convention of 1776 from Cumberland County;[6] appointed by the Assembly to take subscriptions for Continental Loan 16 Dec 1777,[7] and Justice of the Peace Cumberland County, 6 Feb 1779.[8]
John and his first wife Elizabeth had the following two daughters: Mary McClure b. 13 Apr 1750, d. 20 Apr 1809, m. William Maclay; Anna b. 1758, d. 25 Feb 1851, m. Samuel Ewalt.[9] John and his second wife Mary had at least one child named Mary b. 1 Oct 1770, d. 20 Aug 1851, m. John Andre Hanna.[10]
John is buried at Paxton Presbyterian Churchyard, Harrisburg, Dauphin Co., PA, and both wives are buried in his plot. His stone home remained in the Harris family until 1838 when it was purchased by Colonel Thomas Elder. It was also the home of Pennsylvania Female College and eventually the home of General Simon Cameron, who served as Secretary of War under President Abraham Lincoln.
Numerous descendants of John Harris Jr have proven their lineage for the Daughters of the American Revolution. Reading the list of descendants is like reading a history of Harrisburg with many of the ladies' last names now street names in the city. Ellen Williams Hall Wright was the first woman to join under him. Her application is not accessible therefore we cannot say the date she joined through him. As of March 2022, twenty-nine women globally have proven they too are a descendant of John Harris.
Patriot Lineage
Generation 2. John Harris
Generation 3. Mary R. Harris Hanna
Generation 4. Caroline Elizabeth Hanna Briggs
Generation 5. Mary Harris Briggs Pearson
Generation 6. Caroline Pearson, Charter Member Harrisburg Chapter
[1] NSDAR Genealogical Research Database Patriot # A051708.
[2] Register Christ Church, Philadelphia, PA.
[3] William Henry Egle, History of the Counties of Dauphin and Lebanon in the Commonwealth of PA: Biographical and Genealogical, Philadelphia: Everts & Peck, 1883, p. 19, 46, 51, 293.
[4] PA Archives, Second Series, Vol. 3, p. 677-679.
[5] Colonial Records, Vol. 10, p. 752.
[6] PA Archives, Second Series, Vol. 3, p. 681.
[7] Ibid., p. 702.
[8] Ibid., p. 750-751.
[9] NSDAR Genealogical Research Database Patriot # A051708.
[10] Ibid.